For the first time, two pairs from our international group took part in the DCS WW2 dogfight on Burning Skies server.
The two pairs included different types of aircraft: Supermarine Spitfire and P-51 Mustang.
The list of pilots who took part in this event was as follows:
Alex, Canada – Supermarine Spitfire LF Mk. IX
MadMan, Germany – Supermarine Spitfire LF Mk. IX
Andy1966, USA – P-51D Mustang
Red_october, Russia – P-51D Mustang
We used English for general communication, although Russian and German also were used.
In spite of only one Me-109 was shot down, and couple Me-109 and FW-190 damaged, I received oceans of pleasure from this event! My whole system was high on endorphins after this online combat mission! Yes, we reached our main goal – "enjoying flying together", but we can improve our tactic and our interaction to get more fun. Yes, indeed?
I have created a combined video (tacview and in cockpit view). Tacview helps to give detailed information about fights, and in-cockpit view show it is not easy to understand what is happening around you. Aso there is a timestamp in the upper left corner for reference.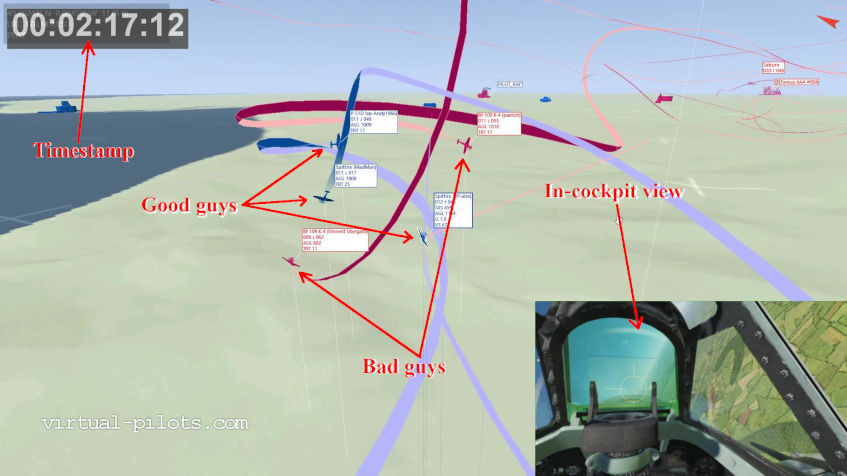 Let's watch a video about five situations of that event and then discuss our perfomance.
So, please post comments below this article on how and when we might have improved our mission outcome (please use exact time to refering).
What we can improve? How do we need to change in our tactics? How we can became better?