Long before the Elbe had its day, in Siberia there was Alaska – Siberia air bridge of the "second front" which crossed the Pole of Cold. This route was used to ferry American aircraft for the Lend-Lease… (translated from Russian)

Valeriy Yaroslavtsev
The sky without borders
I offer a flight along the ALSIB in honor of Victory day
Flights
We can make crewed flights or/and use several planes in loose formation. Crewed flight is more complicated with regard to software but has a lot of advantages. We can use the Vatsim network and our flight will be more serious because we would follow IFR rules. Also we can find other people in Vatsim who could join us.
B. Pilot's Conduct

……

9. Two or more pilots are permitted to fly in formation. If, for any reason, air traffic control instructs pilots to separate, the pilot(s) must immediately comply with the request or log off of VATSIM

Vatsim: Code of Conduct
Each pilot can participate in the whole ALSIB path or in one part of it.
ROUTE
Fairbanks -> Nom -> Uelkal (or Anadyr) -> Markovo-> Seymchan-> Berelech-> Yakutsk -> Kirensk -> Krasnoyarsk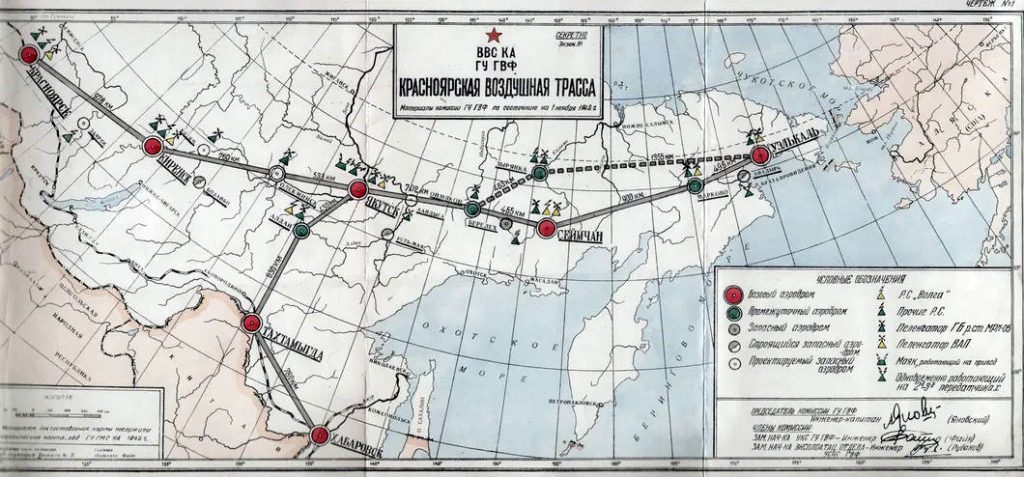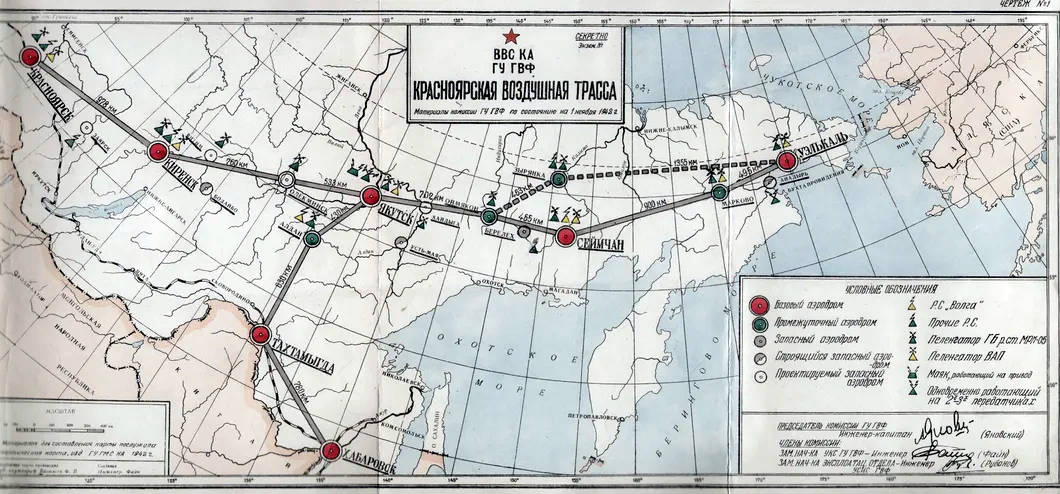 What we can do on the flight?
Actually, flights are too long – up to 4 hours! For this reason we can consider these flights as meetings online. We can tell stories about our grand-parents who took parts in WWII or talk about aviation. We can also sing old WWII songs about aviation (I am not joking)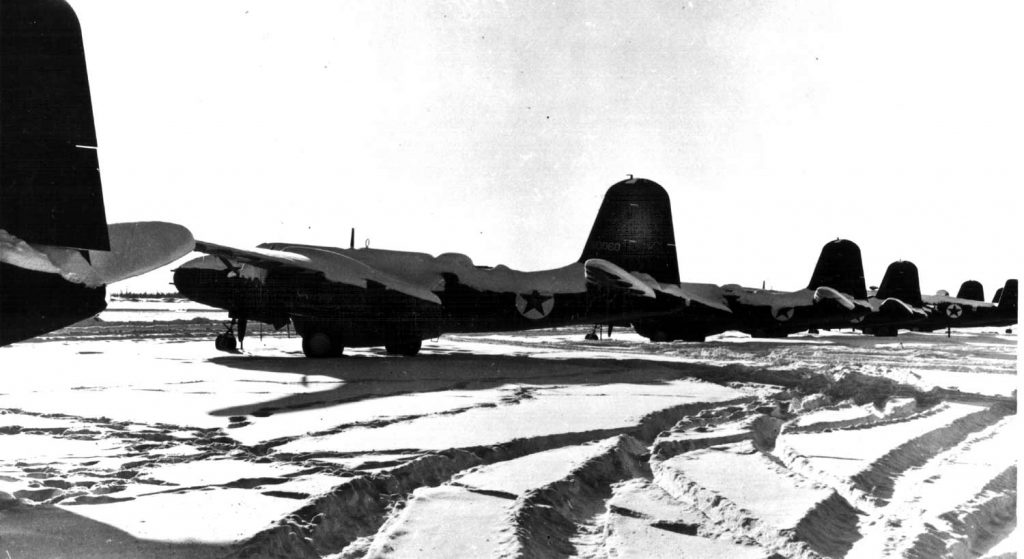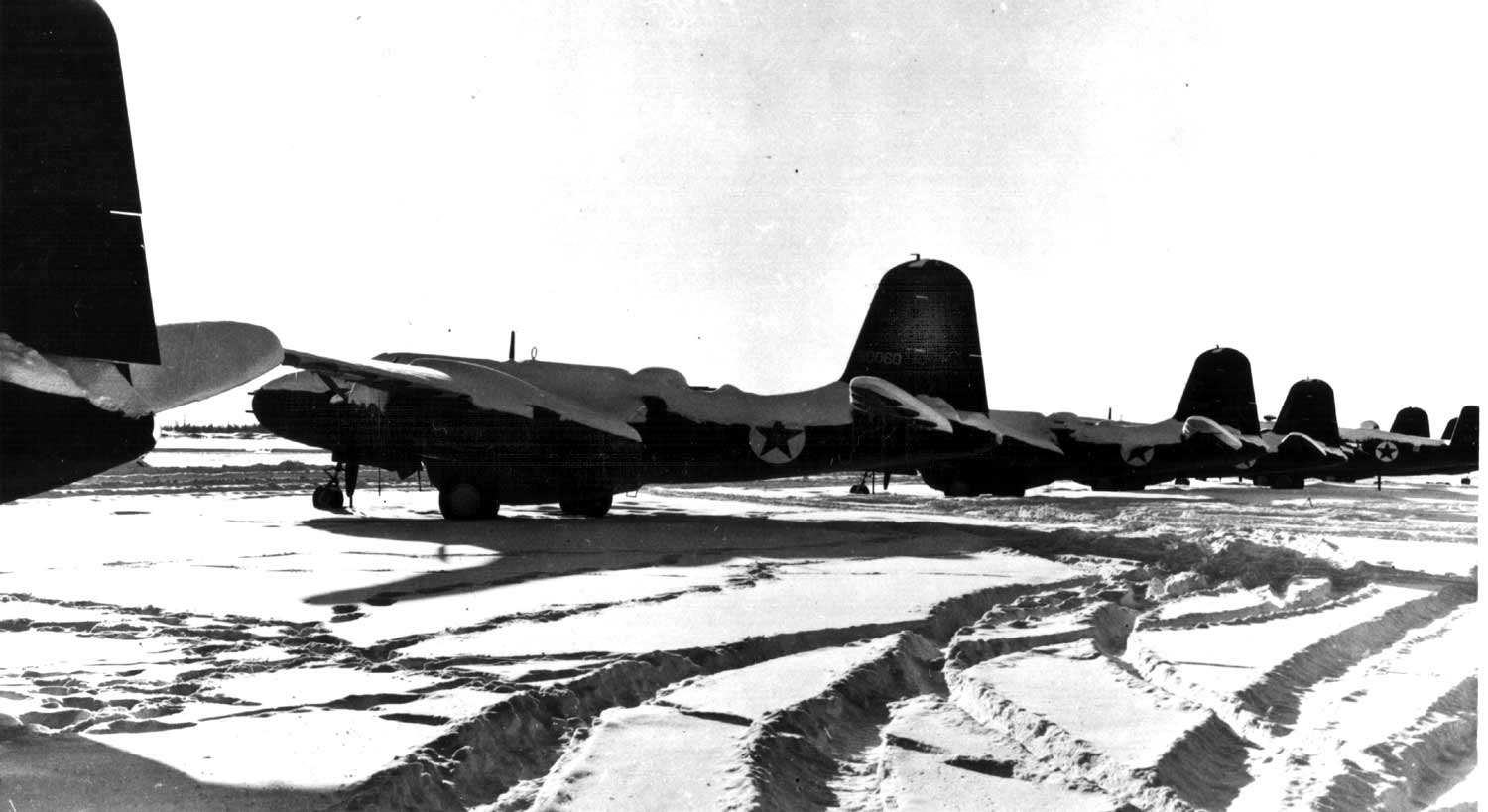 SOFTWARE and COST
X-Plane 11
Usual price – 59.99 USD (click), but there is a discount or much lower price for several countries in Steam. You can also download a demo and test it works on your computer.
Plane
Free model DC-3 is here (click)
Payware model DC-3 (click) – 26.95 USD
This differs from the free model in its higher quality. Also using the payware model is very close to the original DC-3, so according to the developer you can read the real manual to operate this model in X-Plane.
There is payware B-25 also (click) – 25.95 US
A plugin for shared cockpit
Smart CoPilot (click) – 19.95 Euro /1 license, 30 for two, 40 for three etc.
It is a relatively stable plugin and in most cases you don't need "monkey around" to open and forward ports etc. We can use it for free but only one person will control the plane, any other person would be a passenger.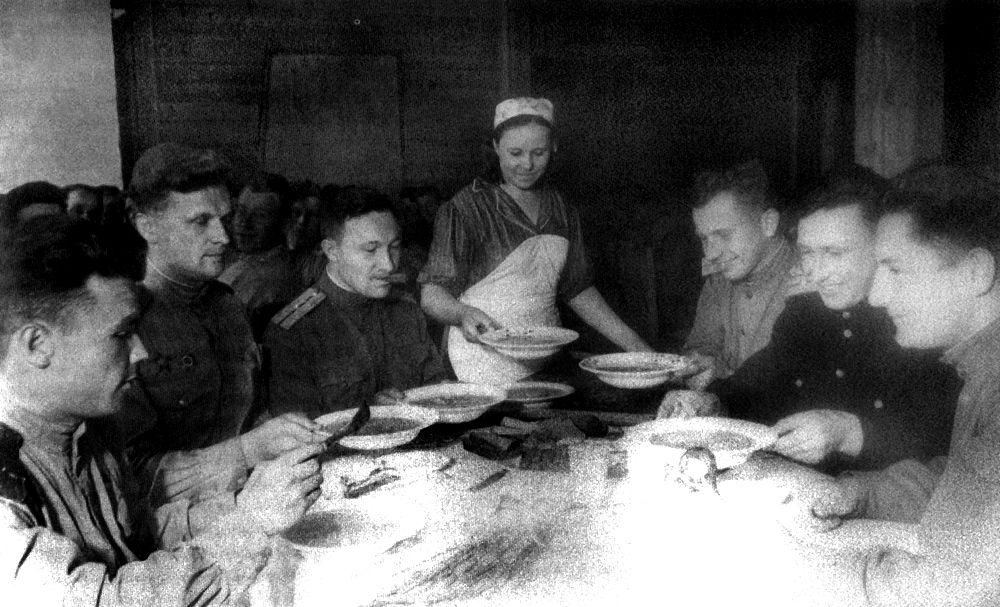 HOW WE SHOULD PREPARE BEFORE FLIGHTS (minimum)
Study how to operate DC-3:
Engine start procedure
Take off and landing procedures, different regimes of the flight such as climbing (rpm, how to save fuel etc)
Navigation equipment (we can't fly without it)
Radio (in Vatsim it is obligatory)
Transponder (must be in Vatsim)
Autopilot (it would be difficult without due to the length of flights).
GPS. X-Plane has a model of the Earth's surface and has simulation of real weather – it is to easy to get lost…
In X-Plane 11
Each airport should be checked (does it exist, are there beacons etc.)
Additionally
Can we take a pause/break and resume the flight? This question is mostly about using Smart CoPilot (Vatsim allows it).
Flight plan

UPDATED 21.04.2019
I found an appropriate program for flight planning: Little Navmap. There are a lot of sites for online flight planning – why Little Navmap? At the first we will use small airfields like Seymchan which is not registered in the most of international lists of airports. So you can not put in the flight plane because the airport is not exist in most bases. Second, X-plane has not it by default (you need to install it additionally) as many beacons etc. Little Navmap uses X-Plane database (airfields, NDBs, VORs) so we will be sure that our flight plan is based on what we have in the X-Plane. Little Navmap is fully free.
I thought that we can use NDBs only, like during WWII… but I found that there are not a lot of NDBs! Now there are waypoints for GPS. I.e. modern planes mostly use GPS for navigation. I am not sure does X-plane has not NDBs or they were removed for more effective navigation. Some NDBs are present in airports and work only with the radius of 50nm. Well, we don't have a choise – we will use GPS more than expected.
Links:
From Alaska to Siberia on a WWII-era airplane (watch a video there it!)
The Alaska Siberia Route (ALSIB)
The Lend-Lease Program and the Alaska-Siberia Route
---
FOR THE FLIGHT IN X-PLANE 11 YOU SHOULD INSTALL:
Here are links for downloading libraries
Updated 23.04.2019
After downloading, just unpack libraries to …X-Plane-11\Custom Scenery
MisterX Library and static aircraft extension
RuScenery page (in Rus) (you can use direct link for download here)
Added May 1st, 2019
FF Library (pls find and download it here)
RD Library (pls find and download it here)
Airports
After downloading, just unpack libraries to …X-Plane-11\Custom Scenery
Updated May 1st, 2019
Ugolniy near Anadyr city (UHMA)
Ugolniy (UHMA) maps (SIDs, STARs)
Seymchan (UHMS) – small but important airfield for us
Yakutsk (UEEE) (there are 3 files).
Yakutsk (UEEE) maps (SIDs and STARs)
Krasnoyarsk – Airport Emelyanovo Емельяново (UNKL) scenery. Note: some objects there are floating in the air – there is no better scenery
Krasnoyarsk (UNKL) maps (SIDs and STARs)
Updated 26.04.2019
There is tundra from Ugolniy to Seymchan and scenery is not very good because players use this part very rare. I created photoscenery with low resolution for the part of our flight. You can download it HERE.

---
QUESTIONS FOR DISCUSSION:
UPDATED 21.04.2019
1, Who wants to take part in this project? (please let me have names)
Andy, Kybinec, Red Pilot and I are taking part in the project.
2. Which model of DC-3 (or other plane) shall we choose?
We tested free model and looks like it is great.
3. Do we need a crew/shared cockpit plugin? Who will buy Smart CoPilot (it is cheaper to buy several licenses)?
Preliminary, Andy, Red Pilot, Kybinec and I agreed to buy Smart CoPilot. Please see new information in the comments. Another interesting question: we can buy 1, 3, 5 licenses… but now there are 4 persons..
4. Will we use the Vatsim network? There are advantages and disadvantages.
Updated 23.04.2019
I asked these questions in Vatsim forum:
Questions:
1. Is it possible to resume previous (saved) flight in the air?
2. As I understood we cannot use a pause when we are in the VATSIM network – is it correct?
3. We will disconnect from VATSIM then press pause – is it OK?
4. At the next day a crew will:
a. start X-plane
b. then load the saved flight and pause it
c. then synchronize it
d. then resume (activate or unpause) the flight
e. after it all connect to VATSIM – is it OK?
5. How to make a crewed flight in VATSIM (shared cockpit)? I mean how to fill the flight plan etc. Or co-pilot should forget about VATSIM?
Answers:

1. yes, you can resume your flight. Please try to pause-disconnect/unpause-reconnect outside the approach or departure area of a busy airport
2. as long as you are actively connected to VATSIM, you must not use pause. I am sure nobody will complain if you pause for 2 or 3 seconds to check something, but anything above it is a no-no
3. yes, that would be the perfect solution. Or you pause and disconnect from VATSIM within a few seconds, see answer 2.
4. yes, this sounds like a good plan. As explained in answer 1., please do this outside busy parts of the airspace
5. you can fly on VATSIM with a shared cockpit. For X-Plane there is now a new client available, called "swift": https://dev.swift-project.org/ … edcockpit/ The co-pilot will connect swift as OBS (observer) and won't be visible to VATSIM ATC, but still to the flight-partner. You may want to test this before flying in an event.

If you need support for swift, please join our dedicated Discord server https://dev.swift-project.org/
Andreas Fuchs, Vatsim supervisor


Andreas Fuchs, Vatsim supervisor
5. Will we invite others to take part in the project (Vatsim and X-Plane forums)?
I will update this article.

Updated 01.05.2019