In this article you will know how to set up TeamSpeak 3 to connect to our server. Our group use TeamSpeak 3 as main resource for voice chat.
At the first, let's create a bookmark. Run TeamSpeak 3 and then press on "Bookmarks" as you can see in the picture below.

Then choose "Manage bookmarks".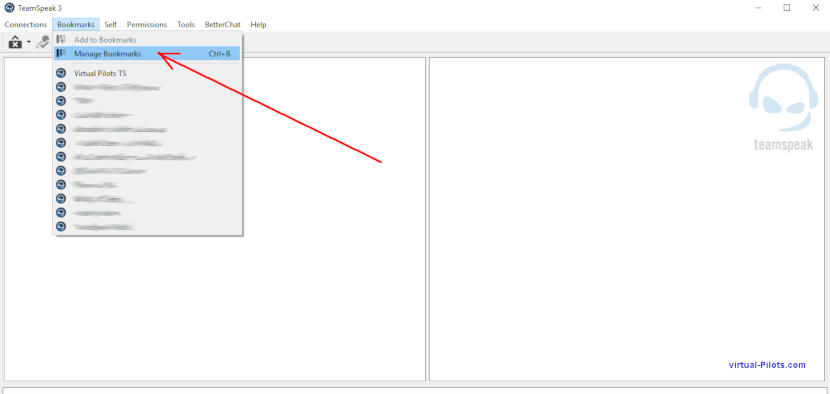 Nickname
In the Nickname field enter your nickname and at the end of your nickname please write a short addition – language(s) you can speak.
For example a user "IvanDraga" can speak only Russian, so his nickname will be like this: IvanDraga ru
Another example: a user "AmericanEagle" can speak English and Spanish. In this case, his nickname will be AmericanEagle en-spa
Please put your maternal language in the first place. This short "language indication" will help members from our group contact with you. They will know on what language they can speak with you.
Server address

The address of our server is: ts.virtual-pilots.com
In the field "Server Nickname or address" you need to write only
ts.virtual-pilots.com as you can see in the picture below. That's it!

No need to write a port or other parameters.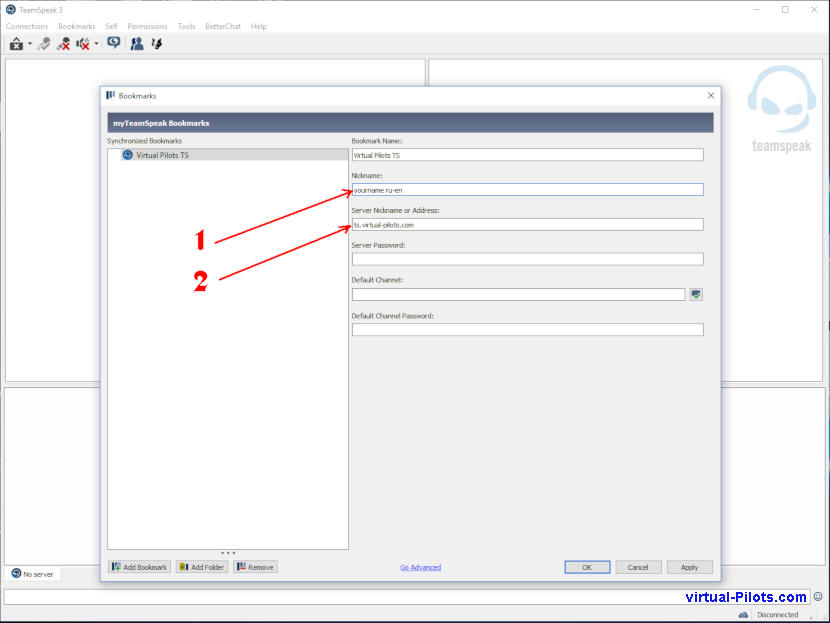 That's it!
If you have any questions, don't hesitate – ask in comments below.

Attention please! Our TeamSpeak's server has automatic AFK function. It means that if you will be inactive for 20 minutes (current settings) in TeamSpeak, the server will move you in the AFK channel.

Next: How to set up TeamSpeak 3 for connection several servers simultaneously (the article not ready yet).